ABOUT US
---
Who we are and what we do
Audacis d.o.o is a Croatian pharmaceutical company for production and distribution of innovative
pharmaceutical products and providing high-quality service of representation of foreign pharmaceutical companies on the Croatian market.
Our mission is to create and market products that use the latest technological and scientific achievements and enable
our customers the access to the most innovative and the most effective solutions for their needs
PRODUCTS
---
The products we represent and we stand behind
Las Chicks® BRONZE
---
Supertanning "marmelade" is completely natural product that accelerates the tanning process achieving bronze skin when sunbathing. Contain natural ingredients that deeply moisturise the skin, rich in carotenoids from carrot oil as also oils from walnut and almond oil ensure faster browning and a nice healthy tan. Nourishing calendula softens the skin, tones and moisturizes, and olive oil gives the skin a special glow and natural tan.   Las Chicks Bronze COCONUT pleasant scent of coconut and almond that energizes and tightens the skin. Las Chicks Bronze Lime & Green Tea, contains the essential oil of ylang ylang and notes of green tea and lime for a refreshing and relaxing effect on the skin.
Benefits
---
Enhances tanning and achieve the desired color in a short time
Deeply moisturizes, protects and helps regeneration of the skin
Maintains achieved tan color and prevent peeling of the skin
The accumulation of carotenoids in the skin and prevents the degeneration of skin cells
Do not clog the pores and allows the skin to "breathe"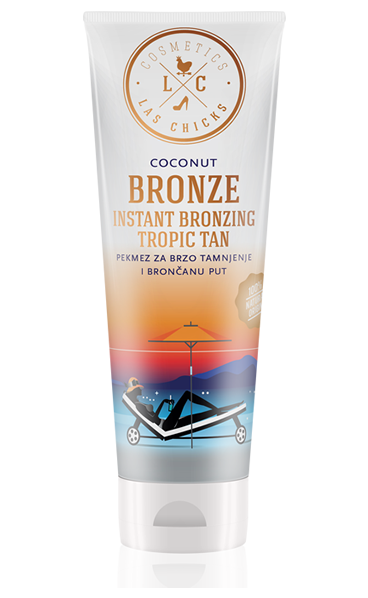 Las Chicks®Magic Glove
---
Las Chicks® Magic Glove, innovative de-makeup microfiber glove, enriched with silver ions, not only that quickly removes all traces of make-up but also protects and preserves your skin, and her gentle microfibers clean pores and remove all impurities. Thus, the facial skin is not exposed to chemicals that can cause irritation, and can be used on all skin types. Thanks to the particular material the glove removes makeup even without the use of cleaning agents. Just soak the glove with water and remove makeup. After use, wash off with soap and let it dry.
Benefits
---
Dermatologically tested
Silver protection
Softness and protection for face
No sensitivity of the eyes and skin
Save time and money
Eco – friendly
Perfect on-the-go